Is it really only the middle of January? Sigh.....
FOOD FOR THOUGHT - A DEVOTIONAL
We can enjoy God's presence
even when life is not enjoyable,
but we must first accept His presence
as an absolute fact.
Because of Your great love for me, You, God, who are rich in mercy, made me alive with Christ even when I was dead in transgressions -- it is by grace I have been saved.
You raised me up with Christ and seated me with Him in the heavenly realms in Christ Jesus, in order that in the coming ages You might show the incomparable riches of Your grace, expressed in Your kindness to me in Christ Jesus (Ephesians 2:4-7).
Great is Your love toward me, O Lord. Your faithfulness endures forever (Psalm 117:2). Set my heart at rest in Your presence when my heart wants to condemn me. For You, God, are greater than my heart, and You know everything (I John 3:19-20).
Beth Moore: Praying God's Word Day by Day
THIS WEEK'S NEWS
Hello, friends. Can you tell that I completely love the little book of devotionals by Beth Moore I stumbled across in, of all places, Walmart? Money's tight but I couldn't resist this little book. I love that each devotional is a prayer.
So! Yesterday we saw Rob's surgeon for his first post-surgical consult. We're so naive. We walked in there thinking he was going to say, "I swear, you're a miracle. I've never seen anyone completely recovered from this surgery in eleven days! Yes! Go find a job! You're good to go."
Imagine this. Rob has been in a body-hugging sling since the surgery. It's very uncomfortable for him. He's been sleeping in his recliner. Again, very uncomfortable for him. I don't think we really appreciate the comfort of our own beds until someone says we can't sleep in them. He hasn't been getting good sleep, of course, but he also is not a complainer. (Is that a word? It is now.)
We hoped his doctor would say he could stop wearing the sling and be comfortable. We thought this was a two week thing, but it turns out it's a six week thing.
Bottom line. He wears the sling for four more weeks but it's OK to sleep in his bed if he's comfortable with it. Apparently, if he gets that shoulder and arm in the wrong position, he'll definitely know it, immediately. No healing reports until the six week mark. Basically, all that happened yesterday is that they removed the stitches, taped him together because the incision isn't completely healed yet and set him up with a physical therapist. They did, however, have a really big bowl of peppermints which we took full advantage of.
The man slept in his own bed last night and he was downright chipper this morning, for the first time since the surgery. :-)
So really, he's doing quite well. Doctor was amazed that he'd stopped taking pain meds after only four days. Rob didn't like the way they made him all foggy so he just quit taking them. He's my hero.
I think the biggest surprise was that the doctor told us he's not to even contemplate going back to work, anywhere, for eighteen more weeks. Yes. Eighteen weeks. (Four.and.a.half.months.) Think about that. Rob's home until the beginning of summer. I can't get my mind around that because the poor man is already pacing back and forth like a caged wild thing. Everywhere I turn, there he is. I love him to pieces, but he gets in my way. I "flitter and fly" all day long and he hasn't figured out how to stay out of my way yet. :-)
Remember when I mentioned I'd received a jury duty summons? Ugh. Guess what? I read the fine print and discovered this: "I understand that I may ask for one postponement for the following reason: business, health, vacation, student, other." Guess which box I'm checking!
My only other real news is something really nice that sweet Mandy did for me. She used her classroom's book order bonus points to get me the complete Little House on the Prairie series. I swear, I almost cried. My girls have this collection, saved from their childhood, but oh, how I wanted my own set to read to my granchildren. She brought me the books last night. I'm reading Jan Karon's Mitford series again this winter. But when I finish them, I'm diving head first into Little House. I'm loving all this peaceful, easy and comforting reading this winter.
BLOGGY NEWS
If you're not aware of these yet, just click on the button.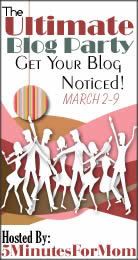 SUNDAY DINNER
Pork roast. With all the trimmings. That might sound a little extravagant but it's not. A six pound pork roast means lots of wonderful leftovers AND a couple of nights off from kitchen duty for me. :-) I know. I'm shattering your illusions. But I LOVE nights off from kitchen duty.
ONE LAST THOUGHT
"Any concern too small to be turned into a prayer is too small to be made into a burden." ~~Corrie Ten Boom~~
Happy new week, everyone. We're halfway through this winter - spring is around the corner! Right? I'm pretty sure that's right.