It's only four o'clock in the afternoon here. Is that too early to go to bed?
Mandy saw her oral surgeon this afternoon to find out why she's in so much pain. Dry socket. I so hoped that wouldn't happen. She's better now that the doctor is on top of it. It was a long, long weekend watching her suffer with this. Hopefully the worst is over now.
Cameron has been here for the past two days so that helps explain why I'm ready for bed so early in the day. :-) I'm amazed every single day how fast he's changing now. He's running all over the place, getting into everything and he's starting to talk. He's picked up some cute words like dada and mama and nana and papa. But he's also learned to sneak up on Chelsea and shout boo! and I'm really amused that he's learned to give me a very serious look and say no! Fun, fun. Because she was here for four days Mandy now knows that when Cameron's here I get to sit down for maybe ten seconds at a time. All you moms out there with little ones, you have no idea how much I admire you. You also have no idea how much I envy your energy!
I've been in the kitchen all day. The beef stew and homemade bread I'd planned for Sunday never happened. I'm not sure I remember what we had Sunday. So today I have the stew simmering on the stove and the bread machine working away. And I just finished a double batch of peanut butter cookies. Rob and Cameron flew through the last batch. Chelsea got a few of them, too, since Cameron shares with her. Sigh.
Tomorrow I'm going to my friend Sheri's house to measure for the living room drapes I'm making her in return for her doing Chelsea's annual exam and shots and license at no charge to me. This isn't the best timing - twelve days before Christmas. But she's been busy and I believe she had some painting to do before she hung her new drapery rods. Anyway, I know she's proud of her brand new home and has her whole family coming for Christmas so if I have to stay up all night until they're done, she'll have those drapes installed before they get here.
I really don't know what's up with beta blogger these days. I've had the invitation to switch showing on my dashboard for two months and they won't let me. Today they won't let me leave comments on beta blogs. It's a little frustrating. I want to switch for no other reason than there's always the chance beta blogger is easier to work with. I do wonder why they put the invitation out there and then won't let you do it. And then they won't let you comment on the ones they DID let do it. Another sigh.
And while I'm at it, I'm curious about haloscan comments. Any information on that? I'm interested in knowing why you like it better and I'm wondering if it's true that when you go to haloscan you lose all previous comments left on your entire blog. Is that true? Mostly, can anyone tell me the benefits of switching? I figure if I'm going to start switching things, I might as well just get it all done. Maybe my blog won't blow up. :-)
For all my sweet friends who have asked me about the recipes I used for my gifts in a jar, I'm planning to post those in the next day or so. I've finished the jars with the exception of one kind of silver wired ribbon I need. I want to post photos (of course) so I've got to get to Michael's, get the ribbon and put it on the jars. So stay tuned. I made drink mixes (amaretto cappuccino and French vanilla cocoa) in pint jars and German chocolate brownie mix in quart jars. I'll get photos and recipes posted soon. Not to worry if you're wanting to do this. They really didn't take very long to make.
Since it really is a little silly to contemplate going to bed this early, I'm off for a long hot soak in Calgon Ocean Breeze Moisturizing Spa Bath.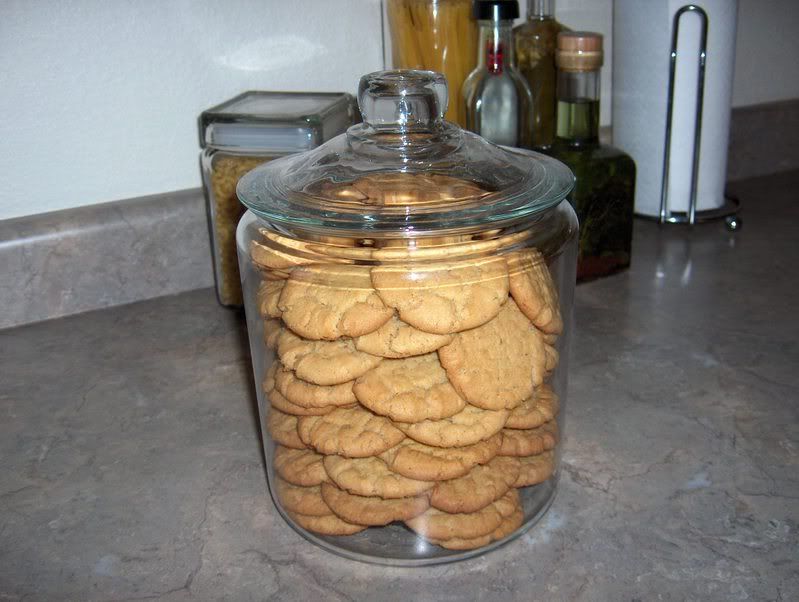 The cookie jar is full again.


The soup's on.


Fresh bread is baking away in here.


Take me away!