FOOD FOR THOUGHT - A DEVOTIONAL

Normally this is where I would share a short devotional with you. But I saw this at
Partners In Prayer For Our Prodigals
last Wednesday and knew right away I wanted to share it.
Edited on 10/17/07 to say: I've deleted the music video because it may be causing my page to load slowly.

THIS WEEK'S NEWS
What a week! And it all culminated in such trouble with blogger yesterday I just gave up. I came in here all ready to settle in and read all the newest posts showing in bloglines and blogger would not let me leave comments. I could comment on typepad and wordpress accounts but not on blogger. You know how when you're having problems with blogger, uploading photos or leaving comments or even publishing your post, you start getting that feeling in your stomach that tells you you're about to get really ticked off? I had so much going on yesterday I decided, "I'm not doing this today." So I walked away. Rob said something to me ages ago that really applied to how frustrated I knew I'd get if I sat here all morning. Some days you're the windshield, some days you're the bug. Yesterday, at least blog-wise, I was the unfortunate bug.
So in other news...:-)
I started this past week by making
these
. This is a double batch. It's amazing how fast we go through these around here.
I took this photo of Mandy and her fiance, Aaron, last Sunday at the birthday dinner his mother had for him at her house. Aaron just turned 25. He's one the nicest young men I've ever met and our family is thrilled that next June he officially becomes our newest son. Aren't they the sweetest looking couple? Smart, too. She's teaches third grade. He's a psychologist specializing in schizophrenia. They're attending the Dave Ramsey Financial Peace course at Fellowship Church and are about halfway done now. What a smart thing for an engaged couple to do.
Wednesday my mom and I dropped everything and got together. Things are so crazy where she works (she's a nurse) right now that we're having a hard time finding these opportunities to get together. The nursing home has implemented a new computer program which in itself isn't the problem. Evidently the problem is that the building is so old it doesn't facilitate working with the new system. Five nurses have thrown in the towel and walked out without giving notice, they're so frustrated. So Mom's working a lot of extra shifts, 12-hour shifts, and it's difficult. I'm praying this will settle down soon and she can have her life back.
Meantime, she and I went grocery shopping together and came back to my place and had the easy barbecued chicken sandwiches I posted about and then played Scrabble. I won. :-)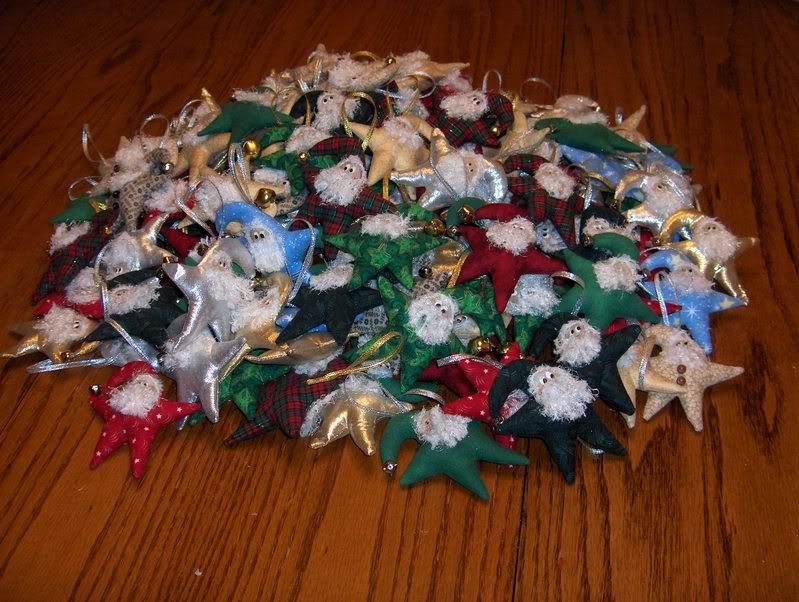 Tada! This is a pile of 153 Santa stars. I did it! I'm done. The dining room table is now officially cleared of all star making stuff and ready for my next project (gifts in a jar).
These are the twelve different Santas I ended up making with the scraps and remnants I had on hand and a few purchased fat quarters of fabric. If you click on the photo you can see them better. They came out really cute and the girls and I are all set for ornaments for ourselves and gifts to give our family and friends. So I'm done with my official 2006 ornament.
Pattern update: I've mailed the pattern for these Santa stars to about fifty people now. This past week I mailed it to Tracey in Santiago, Chile! Her husband is with the American embassy there. She said she wanted to make something American this Christmas. Isn't that amazing? Imagine. Chile.
Last week my sister completely changed her look. She got a
new hairdo
. When I saw the photo she posted, I had an aha moment. It just hit me in the face that my whole look is completely wrong. I'm not and have never been a blond. But somehow through salon colorings and my own bathroom colorings, I've morphed into a blond with a short severe haircut. I like my hair short. But not severe. So yesterday when I went in for my regular cut, I told Kree we needed to completely soften up the whole look. I took a photo of Bev's new look with me and said make me look like this. :-) Then I went to the store and bought a light brown hair color. I'm not ready to post a photo yet but when I get this look where I want it, I'll be contacting Susie at Blue Bird Blogs to change my profile photo. (I can't change it myself - she has to do it.) Anyway, I guess I just wasn't really seeing myself when I looked in a mirror. But yesterday I did and my first thought was, why on earth am I so blond!
I took this photo last night. Just thought I'd show you all how big my little grandson Cameron is getting. He's sixteen months old now. Isn't he adorable? And you know what? He's a good baby. He's got the most pleasant personality, he's a complete joy to be with. Do I sound like I'm very fond of him?
SUNDAY DINNER
Today I'm making chicken pot pie. Robin at
Little Bits of Life
emailed me her recipe for Super Easy Chicken Pot Pie weeks ago and it just sat in my "must try" recipe pile. So I bought the ingredients last Wednesday night and am making it today. If you could see our weather here, you'd know why comforting homemade chicken pot pie is perfect for today. It's dreary and bleak outside, very cold and looks like it may snow any minute.
Rob's working today. Yep. The Christmas rush has hit. If he gets home in time for football, I'm making bacon cheese fries for him. I ran across this recipe in someone's blog recently and it's driving me crazy that I can't remember who posted it. So if you read this, please make me happy by letting me know it was you. :-) I was sure I knew but after searching her archives couldn't find it.
One more thing. I tried a new tea yesterday. If you haven't tried Celestial Seasonings Cinnamon Apple Spice, do! It's wonderful.
ONE LAST THOUGHT
"Given another shot at life, I would seize every minute...look back and really see it...live it and never give it back."
Erma Bombeck - If I Had My Life To Live Over, written upon finding out she had terminal cancer

Stop sweating the small stuff!!! Don't worry about who doesn't like you, who has more, or who's doing what. Instead, let's cherish the relationships we have with those who love us. Let's think about what God has blessed us with and what we are doing each day to promote ourselves mentally, physically and emotionally.
I received this in one of those annoying forwarded emails and it made me think.
I plan to get some much needed maintenance and cooking done around her today. Then I'm treating myself to all your new posts and will hopefully get some comments posted.
I hope you all have a very blessed new week. (I just looked out my window and it's snowing!)